Andrews Pitchfork
Andrews Pitchfork was developed Dr. Alan Andrew. It is an analysis technique which is based on channels. This technique contains three parallel trend lines which are used to indicate the support and resistance areas. The three major peaks are generally used in this technique to develop the three parallel trend lines. Three points are drawn on a chart to create the trend lines automatically. Each trend line represents the key pivot point.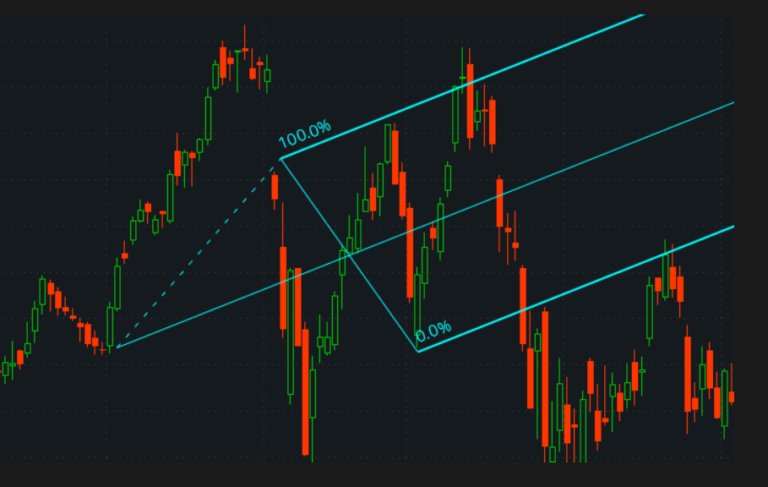 The following schemes may be used:


In an uptrend, trough-peak-trough.
In a downtrend, peak-trough-peak.
First two points indicate the trend line while last two points show the channel. The channel is completed by connecting the last two points. A median line is also drawn additionally and the plot is just like a fork. The Andrews' Pitchfork is used according to same rule as in the channel:


In an uptrend, the upper channel line might serve as a resistance level.
In a downtrend, the lower line might serve as a potential support level.
The strength of the trend is represented by the handle (median line):


In a strong uptrend, price tends to be above the median line.
In a strong downtrend, price tends to be above the median line.
Andrews' Pitchfork can be converted into Schiff and Modified Schiff Pitchfork.


Schiff Pitchfork moves the start point of the handle line halfway to the base of the channel.
Modified Schiff Pitchfork adjusts the handle start point by the distance equal to half a difference between price values of base points of the channel.
Procedure to Draw Andrews' Pitchfork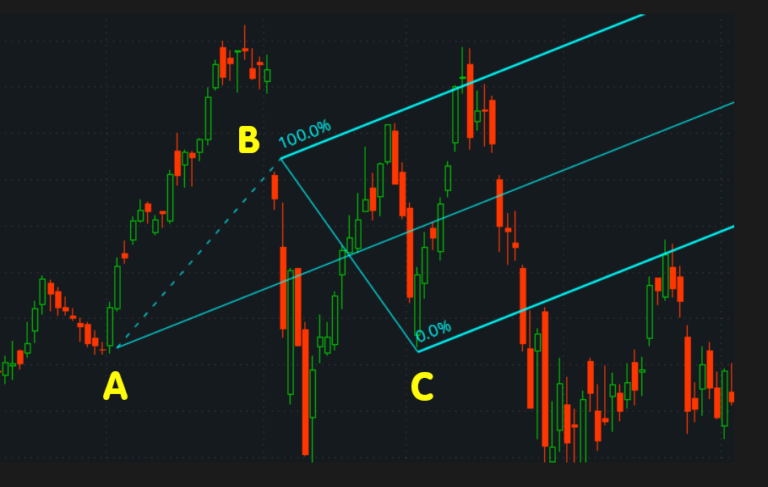 First Find a Point which is the recent low. From point A median line or middle tine will start.
Secondly, find the highest move created from point A which is point B.
And lastly, next point Point C which is found by looking for the lowest retracement move from Point B.
Point A move towards the Point B, then retraces to Point C , then resumes its uptrend. It is to be noticed here that when uptrend goes reverse, the lower trend line that used to act as a support level has now become a resistance level.


The Way to Trade Andrews' Pitchfork
The Pitchfork indicates the continuouse points of support and resistance. Andrews' Pitchfork tool, on market trends allows traders to trade channels. The trader may sell when price increases to upper tine which is line B and profit is gained when price comes to middle tine which is point A. A trader may also buy if price decreases to the lower tine, which is line C, and take profit when it rises back to the middle tine, line A.
A
Abandoned Baby | Account Statement Report | Account Value | Accumulation Area | Accumulative Swing Index ASI | Address | ADDY | ADP National Employment Report | Advance Or Decline Index | Afghanistan Afghanis | Agency Model | Aggressor | Alan Bollard | Alan Greenspan | Albania Leke | Algerian Algeria Dinars | Alligator | Altcoin | Analysts | Andrews Pitchfork | Angela Merkel | Angola Kwanza | Anti Money Laundering AML | ANZ Commodity Price Index | Application Programming Interface API | Appreciation | Arbitrage | Argentina Pesos | Armenian Drams | Aroon Oscillator | Aroon Up And Down | Aruban Guilder | Ascending Channel | Ascending Trend Line | Ascending Triangle | ASIC Mining | Asset | Asset Purchase Programme APP | Asset Purchases | Asymmetric Encryption | Asymmetric Slippage
B
Bag | Bag Holder | Bahmas Dollars | Bahrain Dinars | Bail In | Bail Out | Balance Of Trade | Baltic Dry Index | Bangladesh Taka | Bank Levy | Bank Of Canada BOC | Bank Of England BOE | Bank Of International Settlement BIS | Bank Of Japan BoJ | Bank Run | Bank Run | Banking Institutions | Bar Chart | Barbados Dollars | Base Currency | Base Rate | Basing | Basing Point | Bear | Bear Flag | Bear Market | Bear Trap | Bearish | Binary Options | Bitcoin Cash | Bitcoin Maximalist | Bitcoin Or BTC | Block | Block Explorer | Block Header | Block Height | Block Reward | Blockchain | Blue Chip | Bolivia Bolivianos | Bollinger Bands | Bond | Bond Auction | Bond Yeild | Book | Boris Schlossberg | Botswana Pulas | Brazilian Brazil Real | Breakdown | Breakeven | Breakout | Brent Crude | Bretton Woods Agreement Of 1944 | BRIC | Broadening Formation | Broker | BTD | BTFD | Bucket Shop | Bulgarian Leva | Bull | Bull Flag | Bull Market | Bull Trap | Bullish | Bullish Engulfing Pattern | Bundesbank | Burundi Francs | Business Inventories | Buy Side | Buying Pressure
C
Cable | Camarilla Pivot Points | Cambist | Cambodian Riels | Canadian Dollar | Cape Verde Escudos | Carbon Credits | Cardano ADA | Carry Trade | Cash Market | Catalyst | Cayman Islands Dollars | Cboe Eurocurrency Volatility Index | Central Bank | Central Bank Digital Currency | Central Bank Intervention | Central Counterparty Clearing Houses CCPs | Central Limit Order Book Or CLOB