ZARCO EXCHANGE COMPANY PVT LTD.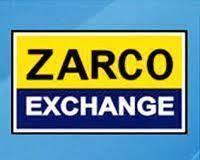 ZARCO Exchange Company is a financial department that provides services for the exchange and transfer of money to meet the demands of their customers across the country. ZARCO has the largest network of branches, which are interconnected with online and it has the franchises and payout booths to extend its business and exchange of money. ZARCO is also providing its financial services for the business like currency exchange, money transfer, travelers cheques, postal notes and coins, bank drafts and cash passport cash cards for the customers. ZARCO Exchange Pvt Ltd has established its head office at 32-A Lawrence Road Lahore. ZARCO Exchange Pvt Ltd works under the provision of existing rules and regulations and on the international with the compliance of international rules and regulations and codes governed over the existing business carry out by the foreign moneychangers. This exchange company works with the compliance of rules and regulations being designed by the Central Bank of Pakistan and this company has also developed the live OFAC Scanning mechanism and provide services to the customers. This company started its function with the objective to provide quality of service, cost effective and durable financial services in the country and in various other countries. Government of Pakistan has strongly supported the services being provided by this company. ENCASHMENT CERTIFICATE AGAINST INWARD REMITTANCES Central Bank of Pakistan has authorized ZARCO Exchange to issue Encashment certificates, which will be provided as under: The Certificate of encashment of foreign currency of ZARCO Exchange Company is issued to the beneficiaries for the remittances received from other countries and these can be paid in Pak currency. It is also advised that State Bank of Pakistan did not impose any restriction on the issue of certificate of encashment of foreign currency for the payment of these remittances. State Bank of Pakistan has awarded the license to ZARCO Exchange Pvt Ltd under the provision of Exchange Companies Ordinance 2002. ZARCO Exchange is the popular and trusted exchange company, which has been working for the provision of services and it also works with other money transfer companies across the globe.
Add a Comment
Comments will be shown after admin approval.
Spam comments will not be approved at all.